*Note: The following is a timeline taken directly from KOAMTV.com. The timeline outlines a few hours preceding the tornado all the way up until several days later. In no way does Help Joplin, www.helpjoplin.com, it's founders/organizers, or anyone affiliated with or referenced to on this website claim that this information belongs to them, but solely to KOAMTV.com.
Sunday, May 22nd, 2011
1:40 PM
Chief Meteorologist Doug Heady was not scheduled to work on Sunday May 22, 2011.  Five weeks earlier he knew there was a good chance for severe weather that day by using his long range forecasting pattern.  A few days out he knew there could be some tornadoes.
At 1:40 p.m. Doug checked the data from his home, called weekend meteorologist Brian Davis and told him to get to the station as quickly as possible, and made this post on his Facebook page:
"Extremely unstable airmass. Tornado watch is in effect with extremely strong supercells blowing over the next couple of hours. The main threat is large hail and strong tornadoes. Looks like I better go to work."
3:58 PM
Doug's first of many severe weather cut-ins. 
Severe thunderstorm warnings had already been issued for eastern Wilson County and western Labette County in Kansas.
But it is hail and mid-level rotation just north of Parsons that prompts the cut-in.
For the next 90 minutes several tornado warnings are issued and several funnel clouds are spotted as the system slowly tracks toward the east through Labette County and Cherokee County.
Fortunately, none of the funnel clouds dropped.
5:36 PM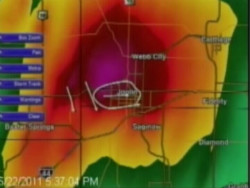 Wall-to-wall coverage begins on KOAM and Fox 14 after there are confirmed reports of funnel clouds east of Galena, Kansas and the western side of Joplin, Missouri.
The National Weather Service will eventually confirm that at 5:41 an EF-5 tornado touched ground on the southwest side of Joplin.
But by 5:43 trained weather spotters have confirmed with Brian and Doug that a tornado is on the ground.  Doug warns viewers that "you can't see it coming" because of the rain shield.
The tornado is moving across the area at about 20 miles per hour, giving Doug just enough time to warn those watching by pinpointing where the tornado is on the radar.
Despite its size, because it is rain wrapped, the tornado still can not be seen from the tower cam at 7th and Range Line.
5:49 PM
As it approaches Main and 20th Street, glimpses of the wedge tornado can finally be seen on the tower cam.
"I know it is doing damage, but I didn't know to what extent.  At this time we weren't getting any reports in on what it was doing.  All I knew was it was tearing through town and we were getting some damage." – Doug Heady
As the tornado passes Range Line the tower cam loses power and goes off.
"At this point I realize this is a major tornado doing massive damage across the Joplin metro… I continue the wall to wall coverage of the tornado passing through the city.  Still at this point in time I know it has done damage, but I still don't know to what extent." – Doug Heady
5:57 PM
The hook on the radar is very close to the intersection of Highway 249 and I-44 and Doug reports the tornado is about to cross the Interstate.
At this point the tornado, still on the ground, is moving east at about 35 to 40 miles per hour.
Doug reports the radar signature of the tornado is strengthening, and could be getting stronger.
6:03 PM
Tornado confirmed to still be on the ground just west of Sarcoxie.
Golf ball to baseball sized hail is also reported.
Tornado warning continues for eastern Jasper County and northern Newton County.
The first official reports of damage start to come in:  power poles down, trees down and homes damaged through the heart of Joplin.
6:16 PM
Radar indicates tornado has lifted and is a funnel cloud.  Tornado warnings continue throughout southwest Missouri and new warnings are issued from a separate cell in northeast Oklahoma.
Extensive damage has been confirmed and it is clear St. John's Regional Medical Center through Range Line took a hard hit, numerous homes are gone, people are trapped in their homes, and numerous cars and semi's are flipped on I-44.
Damage is reported as far north as 7th street to the south of 20th Street.
"This is when it hit me that this is going to become a historic event." – Doug Heady
7:00 PM
Dowe Quick joins Doug in the studio for wall-to-wall coverage as severe thunderstorm warnings continue across the region and more damage reports to come in.
7:30 PM
A first report of confirmed dead comes in – 24 so far.  This is already higher than the May 4, 2003 outbreak that ripped through the viewing area and killed 22 people.
Communications are difficult with power lines and phone lines down from the storm.
I-44 is closed due to overturned tractor trailers.
Joplin High School has been severely damaged.  Fortunately, the graduation was held at Missouri Southern.
Reporter Lisa Olliges said in a phone interview later in the evening that emergency rescue personnel had been working to rescue people trapped in several buildings, including the Walmart at 15th and Range Line.
St. John's Regional Medical Center is severely damaged. Chunks of the building are gone and windows were blown out.  A resident living nearly 45-miles away from the hospital says his yard is now full of debris from St. John's, including medical supplies and x-rays.
Sports reporter Brandon Spiegel was in the St. John's area and spoke with Dowe and Doug during the wall-to-wall coverage about the damage in that area.
8:40 PM
Dowe and Doug talk to Chief Videographer Aaron Thompson during the wall-to-wall coverage.  Aaron had been in the area of 20th and Rhode Island and confirmed damage at Commerce Bank and Papa Johns.
Aaron told Dowe and Doug that damage going east is "worse and worse" and said he was unable to get to Range Line from that direction.
"I didn't know where I was… street signs are just gone" – Aaron Thompson
8:45 PM
Photographer Crystal Albright talks to Dowe and Doug.  She had been at 15th and Range Line and said the Burger King is gone and King's Palace was catching on fire at the time.
She said a tractor trailer was turned over near the 15th Street Walmart, and the Plaza Apartments and storage facilities behind the Walmart also received damage.
10:00 PM
"Dowe and I continue our live coverage and we now know the full effect of what has happened.  We both sit in disbelief as we are reporting this massive historic tornado and what it did." – Doug Heady 
10:45 PM
At least 25 confirmed dead at the Joplin command post.
11:45 PM
The city of Joplin issues a news release saying Mayor Mike Woolston has declared a local disaster.  The release also says the Emergency Operations Center has been activated and is working with the American Red Cross, emergency management services and medical personnel of numerous surrounding communities to assess damage and assist those hurt.
The American Red Cross sets up a shelter at the Legget and Platte Center at Missouri Southern State University; and, the city and Joplin R-8 Schools coordinate transportation to help those left homeless.
Monday, May 23rd, 2011
6:19 AM
Eighty-nine are dead and Joplin has been declared a disaster area after a devastating tornado tore through the area last night, damaging homes, destroying neighborhoods and claiming lives.
Rescue crews worked throughout the night assisting tornado victims and searching for survivors.
According to the Jasper County coroner there are about 30 bodies at the central morgue right now.  That morgue unit has been set up on the campus of Missouri Southern State University.
The bodies of the deceased are being photographed and fingerprinted for identification.
Temporary morgues have also been set up around the city.
Officials say they do not have a firm count on fatalities but the death toll is expected to rise in the days ahead.
Emergency responders are going door to door and marking homes that have been checked and cleared.
Triage centers have been set up around the city with the majority of victims being taken to Memorial Hall.
All citizen volunteers should report to the Recreation Center at MSSU.  Volunteers services are appreciated, but to be effective, need to be coordinated through this centralized location.
6:50 AM
St. John's Regional Medical Center was hit hard by the tornado.  One resident living nearly 45-miles away from St. John's Regional Medical Center says his yard is now full of debris from the hospital– medical supplies and x-rays.
Officials say the hospital is severely damaged.  Chunks of the building were taken out and windows were blown out.
The hospital was completely evacuated.  Officials there say it is unknown how many of the 183 hospitalized patients were injured as a result of the tornado.
Forty were taken to Springfield.  Other severe victims were taken to Freeman.  Many with moderate injuries were taken to Memorial Hall.
Help is coming from as far away as Iola, Kansas.
Officials say all doctors, nurses and maintenance from Freeman should report for their next scheduled shift.  They are currently fully staffed.
If patients are not critically injured please go to other hospitals in the area as Freeman is at capacity.
Patients have been transported by buses to hospitals in different cities with the help of other area hospitals.
Via Christi in Pittsburg, Integris Baptist in Miami, McCune Brooks in Carthage, and Girard Medical Center have all taken patients from the Joplin area.
7:00 AM
From Joplin Schools Superintendent C.J. Huff:
Irving Elementary – a complete loss
Joplin High School – a complete loss
Franklin Tech Center – a complete loss
Joplin East Middle School – gym and auditorium are gone
Cecil Floyd – roof torn off
Administration building – roof torn off
Emerson Elementary – some damage
Kelsey Norman Elementary – some damage
Duquesne Elementary – some damage
Dr. Huff is expected to release a statement on behalf of the school district at 10 a.m. this morning.
7:15 AM
Thousands of residents were left without power.
Empire District Electric says about 20,000 customers were without power at the height of the storm.
Company officials will assess damage throughout the service area as soon as daylight hits.
They are currently checking sub stations and transmission lines and warn residents to stay away from downed power lines.
Officials say you might not know when a line is charged and they are extremely dangerous.
7:30 AM  
Updates from Freeman Hospitals:
Closed or canceled: Dialysis Center at Freeman East, Ozark Center Facilities and Freeman Wound Care Center.
Monday surgeries canceled at Freeman West and East.
Quick Meds Pharmacies at Freeman Neosho and Freeman West are OPEN.
A mobile E.R. unit has also been set up at the Joplin YMCA.  They are available to treat minor wounds and fill meds.
Freeman Business Center is also closed today.
All Freeman employees are to report for their regular shifts.
7:35 AM  
The City of Joplin confirms a death toll of 89 at this time.
They say the tornado made a six mile trek, a half-mile wide through the city – affecting 10% of the city.
The city says clean-up efforts are underway but the primary focus at this time is on search and rescue.
We're told 65 displaced residents took advantage of shelter at MSSU last night.
Also, at last report, westbound lanes on I-44 from mile marker 18 to the stateline are still closed down.
8:00 AM
Reporter Lisa Olliges spoke with a resident yesterday who was inside Home Depot when the tornado went through the area:
"It started storming real bad and I felt hail coming down so I jumped out of the car, and I ran," says Terri Reitz.  "They stayed in the car, they were right behind me, I was worried about them because they stayed behind me, but they finally came in.  We got back there, they told us to get in the back.  There were tables, most of us got under the tables, and that's what saved us.  The whole ceiling fell on top.  We all held on to each other and started praying.  The next thing we know it passed, we had to dig our way out of there, because the debris and everything was on top of us.  We were just trying to find everyone, loved ones. Hoping we all got out safe and stuff."
9:15 AM  
USD 246 – Arma says it is collecting supplies needed for Joplin tornado relief assistance.  USD 246 will deliver the supplies.
Items needed:  shoes – flip-flop style (one size fits all kind of shoes), toiletries – deodorant, tooth brushes, moth washes, soap etc., bottled water, non-perishable food – granola bars, nuts, etc.
9:40 AM  
Central Pet Care in Carthage says they are open to accept animal emergencies and displaced animals.  Address: 224 West Central.  Call 417.358.1300.
10:00 AM  
JEFFERSON CITY, Mo. (AP) – Missouri Gov. Jay Nixon says he fears the death toll will rise but also expects to find survivors in the rubble left by a massive tornado that hit Joplin.
At least 89 people are confirmed dead from the tornado that struck Sunday. Nixon told The Associated Press on Monday that people had about 17 minutes of warning before the tornado hit, but he says the wind and rain were so loud that some may not have heard
the warning sirens.
Nixon says about 2,000 buildings suffered significant damage, including a hospital. The governor says about 400 people have been treated at another hospital in Joplin and more than 100 spent the night at a shelter.
He says the search for survivors is the top priority Monday.
10:45 AM
Brett Dalton, the Public Information Director for USD 250 Pittsburg says they are collecting items to send to Joplin as well.
Drop off bottled water, non-perishable food items, personal hygiene items, unopened toys, blankets and work gloves at the following locations:
Lakeside Elementary School
George Nettels Elementary School
Pittsburg Community Middle School
the Family Resource Center
the Bevan Education Center
Also, the sports physicals clinic scheduled for May 25 at Via Christi Hospital has been canceled, as many of the hospital's physicians will be in Joplin helping in the relief effort.
10:50 AM
Red Cross is asking for blood donors.  Please go to the student center on the campus of MSSU.
Also, Souls Harbor has diapers, paper towels, clothing, water at 817 S. Main.  Call 623-7927.
Qunicy Magoo and Scottish Rite Masonic Center are providing meals for first responders:
Quincy Magoo's at the old Gateway Creamery 614 Kentucky will be serving snacks, sandwiches, water etc. to volunteers  tomorrow 5/24.
Scottish Rite Masonic Center 5th & Byers will serve breakfast today and tomorrow until noon for 1st Responders
11:05 AM
The Parsons Chamber of Commerce is currently serving as an official drop off location for donations for the victims of the Joplin Tornado. Residents and area businesses are asked to donate what they can to help.
Please deliver them to 506 Main, Parsons, TODAY.
Donations will be accepted under the canopy at this address throughout the day. A truck has already been donated by The Home Store.
All donations will be loaded this evening and will transfer to those in need first thing tomorrow morning. 
11:30 AM
Patients have been moved from Memorial Hall to McAuley High School. They are accepting donations at this location.
11:50 AM
Joplin Schools superintendent Dr. C.J. Huff held a news conference with the latest on the damage to their schools.
"We're a great district and I have no doubt that we're going to bounce back from this," Dr. Huff said.  "As far as the plans are concerned, we started that planning process today.  We're in the process of developing a short term plan, in terms of how we're going to address our current facility issues, securing our buildings and taking care of the buildings that weren't damaged or had very little damage.  The next step will then obviously be to figure out how we're going to take care of our students this fall when school starts again.  Obviously school starts here in about three months - definitely not time to rebuild new schools, so we're going to have to get creative on how we can make that happen, but I have no doubt we are going to overcome this and we will have school this Fall."
Dr. Huff says the district is focusing on finding out which students are still missing and those who are safe.  He says the district is confident they will bounce back.
12:00 PM
"We're still providing for our patients, just not at this hospital," says Miranda Lewis of St. John's Regional Medical Center.  "The critical patients went across the street because we did lose power.  We were able to take care of our patients.
Forty patients were taken to Mercy hospital in Springfield and other severe victims were taken across the street to Freeman.
Power lines and phone lines are down- making communication nearly impossible.
Thousands of residents in the Joplin area are still left without power this afternoon.
Empire District Electric says about 20,000 customers lost service at the height of the storm.
Company officials are still assessing damages.
They are currently checking sub-stations and transmission lines and warn residents to stay away from downed power lines.
Again, the Missouri American Water Company is asking residents to boil their water due to low pressure from power outages and the storm damage.
The boil order includes all of Joplin, Webb City and Galena.
The destruction on 20th Street is tough to take in.  The apartments east of Dillons are gone.  Cars are flipped and some even thrown into building.
Many are still looking for loved ones.  The City of Joplin has set up a welfare check number that you can call:  417.659.5464.
And a number of fires started as a result of gas lines breaking after the tornado went through.
As a result Missouri Gas Energy has shut off gas service in the central part of Joplin.
This may affect customers not directly impacted by the tornado.
1:20 PM
The National Weather Service tells us the tornado that went through the Galena/Joplin area was an EF-4, possibly EF-5 at times.
2:25 PM
Great Southern Bank locations throughout Southwest Missouri, Eastern Kansas and Northwest Arkansas are serving as a public donation site for the American Red Cross Disaster Relief Fund.
Customers and the general public can drop off monetary donations (cash or check) at any Great Southern Bank location.
In addition, Great Southern is contributing $10,000 to the American Red Cross in support of recovery efforts in the Joplin area.
Great Southern Bank's Joplin facilities located at 1232 S Rangeline and 1710 E 32nd, are open for business today following Sunday evening's devastating storms. All customer accounts are accessible and safe deposit boxes are secure.
3:00 PM
The Joplin School District was hit extremely hard by Sunday's tornado.
Superintendent C.J. Huff says Irving Elementary, Joplin High School and Franklin Tech Center are all complete losses; and, that all schools in the Joplin School district are closed for the rest of the year.
Huff says that the district will overcome this and that there will be class in the fall.
Joplin High School was built in the 1950′s and Huff says if he had to estimate the cost of building a new high school it would be between $40 million and $50 millions, including the Franklin Tech Center.
But at this point the district is just trying to contact people.
"The main thing is communication – principals trying to locate everyone in their staff and work with us to try and locate all of our students to make sure they're safe," says Dr. Huff.
3:15 PM
116 confirmed dead by Joplin City Manager Mark Rohr.
3:40 PM
NORMAN, Okla. (AP) – The National Weather Service says a tornado
that swept through Joplin, Mo., and killed at least 116 people packed winds up to 198 mph.
The weather service's director, Jack Hayes, says the storm was given a preliminary label as an EF4 – the second-highest rating given to twisters. The rating is assigned to storms based on the damage they cause.
Hayes said the storm had winds of 190 to 198 miles per hour. At times, the storm was three-quarters of a mile wide.
He says survey teams from the National Weather Service are on the scene and will make a final determination on the rating Tuesday.
A tornado outbreak last month killed more than 300 people across the South. At least three of those storms were rated EF5.
(Copyright 2011 by The Associated Press.  All Rights Reserved.)
3:40 PM
In a news conference that just ended officials say 116 are dead and more than 400 are injured.
Joplin Fire Chief Mitch Randles says sightseers need to stay out of the area.
He says St. John's emergency room was moved to Memorial Hall.  A mobile hospital team is at 30th and Range Line.
Randles says rescuers are fighting the elements.
Several county coroners and mobile morgue teams are working together on collection and identification of bodies.
Missouri Task Force 1 and Oklahoma CERT teams are working to locate people still in the Home Depot and Walmart.
Missouri Governor Jay Nixon says law enforcement and emergency responders are still working in apartment buildings.
The governor said the police and military police working together to prevent looting and keep people out of the damage area.
4:25 PM
The Joplin School District wants to make sure their students are ok.
If you have students in the Joplin School system please call 417.625.5270 or post their status on the Joplin Schools Facebook page:
https://www.facebook.com/joplinschooldistrict
5:20 PM
Officials tell us they need money more than supplies at this time.     to make a donation call the red cross at 1-800-red-cross or log onto their website to make a secure donation – that's RedCross.org.
If you happen to have supplies that you can donate now – here is a list of drop off locations: Spreadsheet of Joplin Relief Drop Off Locations
And a reminder, the Joplin School District wants to confirm the well being of its staff and students.  Visit the Joplin Schools Facebook page or call 625-5270.
The American Red Cross has been stationed all around town.
The organization has cots, serving meals and assisting residents displaced by the deadly storm.
Red Cross workers say while they had 65 people using the shelter at mss last night, they expect to see more people using the shelter tonight as more people assess the damage this storm brought to the viewing area.
We spoke with Jasper County Commissioner John Bartosh who has been surveying the destruction.
He says it might be awhile before the city recovers.
"I'm going to say a couple of years," Bartosh says.  "This is a big, big tornado - big path - it's just devastating.  I've seen stuff like this on TV, never seen it in real life.  It's just devastating.  I really don't know what to say – I've never seen anything like it."
About 14,000 Empire District Electric customers were without power after yesterday's tornado.
Most customers without power were in Joplin, but customers in Granby, Sarcoxie, Diamond and Wentworth were also left without power.
Empire crews have called in additional linemen to deal with the emergency.
A spokesperson says right now people affected by the outages should prepare for a multi-day outage, and they do not have an estimated time the power will be back as the severe weather lingers over the area.
Hundreds of injured people have been treated at Joplin's Freeman hospital.  The hospital reports more than 500 patients have been treated at their facilities.  Freeman estimates mealy 900 employees reported to work, along with 100 additional volunteers.
O'Reilly Auto Parts was one of the businesses impacted by yesterday's storm.  The damage includes broken glass, signs ripped apart and company vehicles with broken windshields.
Managers at the store say they believe there was expansion to the store due to the winds.
They say they are saddened when they look across street and see others with complete destruction.
"It's just unbelievable, from here as far as you can see there's nothing left," says manager Everett McIntire.  "You see it on the news and TV but you see it live and you know so many people are effected locally, when it's your home it's pretty rough."
The store manager says they have a construction crew on the way up to make sure their windows are sealed so nobody can get into the store.
6:30 PM
Missouri Governor Jay Nixon gets a first hand look at the tornado damage blamed for 116 deaths.
In a news conference this afternoon the governor said he has spoken to the president and is assured Joplin will get federal assistance.
The governor was joined by the city manager, congressman Billy Long and the adjutant general of the National Guard.
265 Guardsman are in town along with 110 state troopers.
The governor noted that faith-based organizations play a vital role in the neighbor
helping neighbor effort and said rebuilding help will come later, but first and foremost the search is on for the missing.
"I just ask that everyone throughout the region, throughout the country, continue to  pray for folks as we work out there," Governor Nixon said.  "As you know it's been a very difficult time but the seven rescues today mean there are other people out there that could be surviving and we need to make sure we're in a very organized way going about the search as these leaders – very organized leaders - are doing right now."
After the news conference the governor and others planned for afternoon searches focusing on multiple person dwellings and strategies for safety.
They will be discussing the possibility of a curfew.
Many of those at the news conference praised the first responders some of whom lost their own homes to the twister but continue to work tirelessly.
A temporary morgue was set up at Missouri Southern to handle the large number of deceased – 116 at the last report.
Some of the deceased were taken to a command center at 24th and Main Street, awaiting transport to MSSU.
The Joplin fire chief said the deaths were widespread and not concentrated at any one location.  He said right now they are trying to compile a list of names and identify the bodies.
"We are working on a list right now," Chief Mitch Randles said.  "As you can imagine it's quite extensive and it's quite hard to keep track of.  I do have my staff working on that and we hope to be able to release it at a later point in time."
A home on Pennsylvania near 26th Street is one of many that is badly damaged.  The family inside the home said they had no idea the tornado was coming and that they didn't even hear the sirens.
A hallway and faith is what they said kept them alive through the storm's passing.
"We got into the hallway and got the kids in between us and we just prayed," Elza Burkhalter told us.  "That's all we did.  And just asked the Lord to let it pass.  That's all we could do."
A dentist's office located on Jackson and 26th Street is completely destroyed.
Dr. Pat Thompson spend Monday assessing damage done to his office.
The EF-4 twister ripped through whole neighborhoods in the area.
Dr. Thompson said they are clearing through the rubble to retrieve patient's files.
"We're recovering all because the two things inside that was protected enough was the metal filing cabinet that was locked so all the current patient files are in that and that's what we're moving," says Dr. Thompson.  "We're taking it home and them we're relocating to wherever we end up practicing."
7:30 PM  
The south Joplin Family Y is offering free day care on Tuesday.
7:52 PM
A police officer working in the area of 32nd and Main helping in the recovery effort has been injured in a lighting strike.  No further details available at this time.